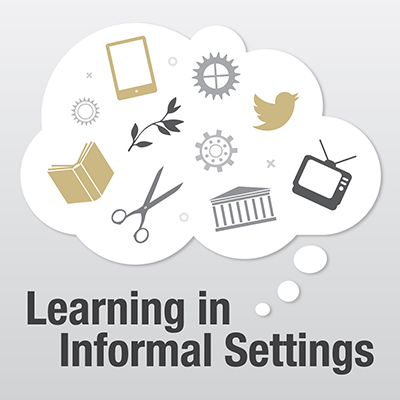 "Leveraging Multiple Forms of Expertise in Museum and Community-Based Collaborations" by Molly Shea, Assistant Professor, San Francisco State University
 
Shea will explore how museums can collaborate and incorporate community expertise (informal education) into research and programs to better reflect the communities they serve. Themes include: using community resources to design transformational spaces that reflect the identity of youth in their community; engaging families in design and implementation of STEM-rich making projects; and how flexible, process-driven projects allow youth and adults to improvise and develop STEM practices that arise through collaborative design.
Shea holds a PhD in education and MBA from CU Boulder. She is also the former director of the Center for Informal Learning in Schools at the Exploratorium in San Francisco.
Learning in Informal Settings is an innovative seminar series covering a variety of topics, such as learning through making, interactional studies and contemplative studies of the natural world. All lectures are free and open to faculty, alumni, students, educators and the public. Seating is limited.
For more information and upcoming seminar programs visit the CU Museum of Natural History online or call 303-492-6892.
Thursday, Oct. 26, 3:30-4:30 p.m.
Henderson Building, CU Museum of Natural History, Paleontology Hall