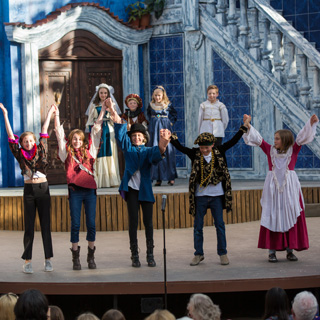 Is it possible to improvise scenes and plays in the style of Shakespeare? Absolutely! 
In this 10-week after-school class, teens will learn about Shakespearean language, verse and themes while building improvisational skills in order to spontaneously create theater that could have been written by the Bard himself. This class culminates in an informal showing for friends and family on the last day of class. Improvised Shakespeare is a fun and engaging way to develop language and performance skills, build confidence and work with other teens as part of a team. 
Taught by Royce Roeswood, one of the founding members of Makeshift Shakespeare with over 20 years of improvisational theater experience. Open to students of all experience levels and abilities (whether you're new to improv and Shakespeare or have been performing for years).