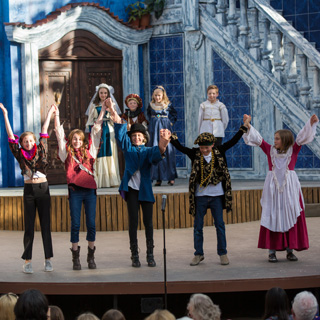 The Colorado Shakespeare Festival invites kids ages 6–18 to CU Boulder's campus to study Shakespeare with CSF professionals. Working in small groups, these students learn about Shakespeare by rehearsing, staging and performing a shortened play on the Outdoor Mary Rippon Stage (Sprites perform in the indoor Loft Theatre). Camp Shakespeare and Shakespeare's Sprites are a fabulous way for kids and teens to explore theater and Shakespeare in a creative and supportive environment.
In addition to acting training, students participate in master classes with special guests from the CSF company. Campers also work with a stage combat professional to learn the safe way to fight onstage. Tuition includes one ticket to attend CSF's performance of A Midsummer Night's Dream on July 19 at 7 p.m.
Shakespeare's Sprites | Ages 6–9
Week 1: July 6–10, 9 a.m. to noon
Week 2: August 3–7, 9 a.m. to noon
Performances: Friday of each week, 11:30 am
Sign up for either or both weeks.