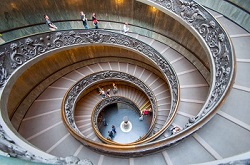 Global Seminar: Culture Wars in Rome
Culture Wars in Rome is a two-week course led by Paul Diduch, an instructor in the CU Boulder Herbst Program of Humanities. Students earn 3 humanities (or elective) credits through lectures and visits to major sites in and near Rome. 
Spend your Maymester walking, talking, eating and exploring in central Rome! Attend an informational meeting with the director and past participants to learn more.
Wednesday, Jan. 31, 5–5:30 p.m.
Engineering Center, room 1B08