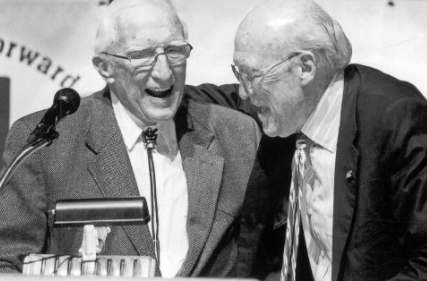 The Center of the American West is proud to present the Wallace Stegner and the Humor Initiative's Fool for a Day Award to Senator Alan Simpson, his wife Ann Schroll Simpson, Pete Simpson and his wife Lynne Simpson. Please join us for this once in a lifetime event.
Each year, the center of the American West presents the Wallace Stegner Award to an individual or group of individuals who have made a sustained contribution to the cultural identity of the West through literature, art, history, lore or an understanding of the West. The center also presents a Fool for a Day Award annually to celebrate those individuals whose skills and temperaments support the central conviction of the Center of the American West: A dose of good humor is essential to constructive public discussion and, not coincidentally, to public health.
The Center has combined the Stegner Award with the Humor Initiative to celebrate their contributions to our understanding of the West and to celebrate the opportunity to laugh as we do so. 
Alan Simpson, former U.S. senator from Wyoming, spent a career in public service. From Wyoming Assistant Attorney General to City Attorney, he was very active in all civic, community and state activities. As an author, teacher and visiting lecturer, he continues to serve on numerous corporate and nonprofit boards and travels the country giving speeches. 
Ann Schroll Simpson's career varied from teaching, grass-roots campaigning, real estate, constituent activities and social responsibilities. She served as co-chairman of the Congressional Wives Mental Health Committee, as a board member and president of the University of Wyoming Art Museum Board and as an active fundraiser for the Art Mobile, which was her brain child.  
Pete Simpson, a distinguished and award-winning academic, was twice elected to the Wyoming House of Representatives. He served as dean of instruction at Sheridan College and was appointed UW vice president for institutional advancement and executive director of the University of Wyoming Foundation. Since retirement, he continues to participate in cultural and civic affairs and hosts the "Pete Simpson Forum" in the online newspaper WyoFile. 
Lynne Simpson's career spans public administration, public affairs, community theater, the arts and social services. She helped establish the Eppson Center for Seniors in Laramie, co-founded the Laramie Summer Institute for Children, directed the University of Wyoming Renaissance Faire and taught in UW's Trial Lawyer Institute. She served on the Wyoming Council for the Arts, the National Community Theater Association Board and was awarded an NEA Fellowship in Washington, D.C., and the Governor's Arts Award. 
Visit the Center of the American West for more information.
Thursday, Dec. 7, 6:30 p.m.
Village Center, Multipurpose Room